Cheap Soup Recipe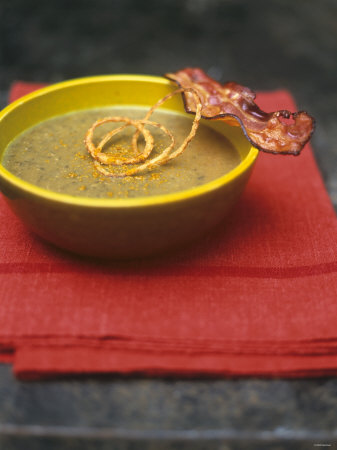 This recipe needs minimal vegetables, only red chillies and fresh coriander. Yes, yuk. But sometimes in just the right recipe it is nice. I haven't tried this yet. But as I am still after very cheap meals often, this is worth putting here to use later.
Don't freak out about the title (I did) it is just normal Australian soup mix.
Spiced Coriander, Lentil & Barley Soup
1 tablespoon coriander seeds
1 tablespoon cumin seeds
1 tablespoon ghee
6 cloves garlic, crushed
2 fresh small red thai chillies, chopped finely
1 1/4 cups (250g) soup mix
1 litre (4 cups) chicken stock
3 1/2 cups (875ml) water
1 cup coarsely chopped fresh coriander
1/3 cup (95g) greek-style yoghurt
1 tablespoon mango chutney
Dry-fry seeds in large saucepan, stirring, until fragrant. Using pestle ad mortar, crush seeds.
Melt ghee in same pan, cook crushed seeds, garlic, and chilli, stirring, 5 minutes.
Add soup mix, stock and the water to pan; bring to the boil. Reduce heat; simmer, covered, stirring occasionally, 1 hour. Cool 15 minutes.
Blend or process half the soup, in batches, until smooth. Return pureed soup to pan with unprocessed soup; stir over medium heat until hot. Remove from heat; stir in coriander.
Serve soup topped with yoghurt and chutney.
Serves 4.
p13 AWW Smart Food (Budget Recipes)
Edited to say: I really liked it. In the end we only had Italian soup mix, and my husband put in extra barley. We just had yoghurt to serve it with in the middle.