Beef Sausage Minestrone Soup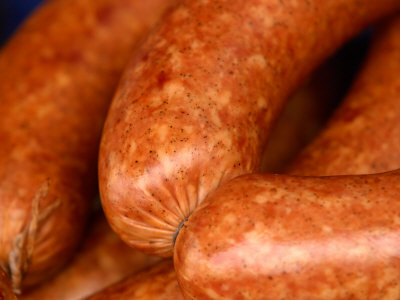 This is adapted from a chorizo recipe. We accidently used them up and had just normal sausages that you throw on the Barbie. This is probably the best minestrone I have had. Some in the end put me off minestrone. There is something about it. Maybe it is the tomato paste. This one doesn't need it. My husband used sumac, a favourite spice of mine. None of this spice combination makes you notice the spices, but at the same time it doesn't taste like boring carrot and celery. Make sense? I don't think it needed parmesan.
Sausage Minestrone
Ingredients (serves 6)
* 2 tablespoons olive oil
* 2 med- large brown onion, diced
* ½ tsp sumac
* ½ tsp oregano
* 1 ½ tsp hot paprika
* 1 tsp salt
* 4 garlic cloves, chopped
* 1 tsp chopped dried chilli
* 8 sausages, chopped
* 2 large carrot, peeled, diced
* 3 sticks celery, diced
* 400g can diced tomatoes
* 6 cups water
* 6 tsp chicken stock powder
* 1 1/4 cups dried small pasta shapes, such as spirali , ricini, broken penne (I suggest macaroni)
* 1/2 cup frozen peas
* 400g can cannellini beans, rinsed, drained
* 1/4 cup flat-leaf parsley leaves, chopped
* grated parmesan cheese and crusty bread, to serve
Method
1. Heat oil in a large saucepan over medium-high heat. Cook sausages, when nearly fully cooked, slice thinly and then put back into pan. Add spices and continue to cook.
2. Add onion, when nearly cooked then add carrots, celery and garlic. Cook, stirring often, until well cooked. Add stock powder.
3. Stir in tomatoes and water (boiling) Bring to the boil. Add pasta and simmer, uncovered, for 10 to 15 minutes or until pasta is just tender. If peas frozen can add soon.
4. Stir in peas, beans and parsley. Simmer for 7 minutes or until beans are warmed through. Season with salt and pepper.
5. Ladle soup into warmed bowls. Sprinkle with parmesan. Serve with crusty bread.