Frankfurter Recipe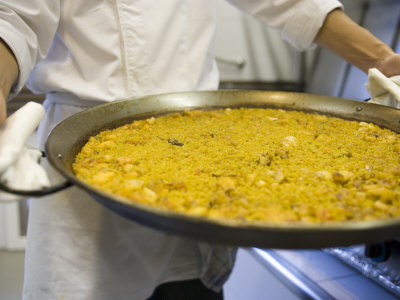 This recipe I invented. My husband did the hard work of making it work. It was a combination of three recipes, the first one being a frankfurter paella recipe. It is a variation of our usual paella as well because we copied those spices and the method which is actually the way my husband's Mum used to do fried rice. That method has been helped along with the canned tomatoes making it easier to eat. Without the extra meat the roasted red capsicums from the jar really makes it. We think it is versative because you have have the cooked chicken it in and/or canned prawns or leave them out.
Our usual recipe
has those. Our recipe varies from the McCormick one on the link because originally the McCormick one had kabana, my husband uses his Mum's method, and I have found it easier to use canned prawns or crab. If I am at the supermarket and want to make this I just buy the cooked chicken, a can of seafood, some fresh tomatoes and some shallots. The one below is more a pantry staple dish. I try to keep frankfurters as emergency food in a box for such things in case of blackouts. Which is why my husband brought it out, I needed extra food and he found the box.
Versatile Paella
Ingredients (serves 6)
* water
* 1 brown onion, finely chopped
* 3 large garlic clove, thinly chopped
* 150g green beans, topped, cut into 3.5cm pieces (stir fried)
* 3 cup arborio rice or long grain
* 1 x 400g can diced Italian tomatoes
* 2 tbs lemon pepper.
* 1 tsp tumeric
* 4 tsp chicken stock powder
* 80g bought roasted red capsicum in jar, cut into 2cm X 4 mm strips
* 1 green capsicum
* 1 can of frankfurters or we think we would actually prefer kabana like we usually use
* Oil, salt & pepper
Method
1, Turn electric frypan on high and put rice in, add oil until all grains coated with oil.
2, Place large frypan on stove on med – high heat and place chopped beans on with 1 – 2 tabs oil.
3, Fry beans until nearly cooked, then add onion and a bit later the garlic and chopped capsicum.
4, When nearly all the grains of rice have changed colour (turn down heat) add boiled water about a cupful at a time.
5, After a while add lemon pepper, stock powder, turmeric and cooked beans, onion etc into cooking rice.
6, Cut frankfurters into thinish slices and fry on stove frypan.
7, Pour tomato juice on rice and cut tomatoes into chunks, add sliced roasted capsicum and fried frankfurters to cooked rice.
8, If rice too wet leave lid off, stir rice to help dry out.
9, Serve.