Adzuki Bean & Pumpkin Recipe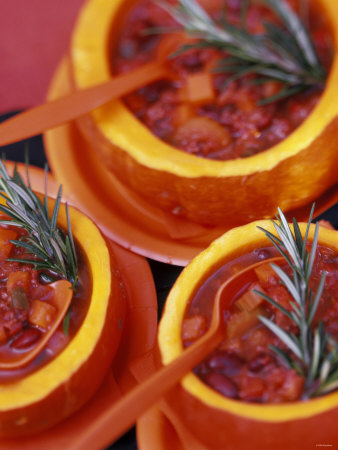 Had this last night, we were really impressed.
Adzuki Bean & Pumpkin Soup Recipe
2 tablespoons olive oil
1 teaspoon cinnamon
1 teaspoon (dried) coriander
2 tsp hot paprika
2 teaspoons fine grain sea salt
2 medium-large onions
8 cloves garlic, sliced thinly
4 cups butternut pumpkin, peeled and cut into 1/4-inch dice (1 kg)
3 tsp veg stock powder
5 - 6 cups water, (cover pumpkin and beans)
5 whole canned tomatoes, chopped (2 cans whole peeled)
4 cups pre-soaked adzuki beans (overnight).
coriander chopped
Method
Heat the oil in a large pot over medium heat. Add the onions and saute until they start to go translucent. Add the cinnamon, coriander, paprika and salt and saute for a minute or two - until aromatic. Add the garlic, cook. Then add butternut squash, cooking for about 5 mins, stir well, and then add beans and tomatoes. Cover with just enough water (plus stock powder). Increase the heat to bring to a boil, and once boiling, reduce heat,cover, and simmer, until the squash begins to soften – 15-20 minutes. Once the pumpkin has softened, use a potato masher and break up the pumpkin pieces and whole tomatoes as well.
Cook for about 1 hour in total.
Serve sprinkled with the coriander.
Serves about 8.
Adapted from
this
recipe.