Silverbeet & Black-eyed Bean Soup & Greek Lentil Soup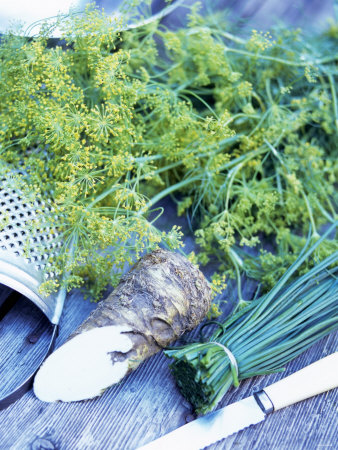 The above picture is dill, horseradish and chives. My husband picked a lot of chives from our other house to use this week, I eat horseradish cream sandwiches and tonight dill in our soup.
This is a recipe we have used in the past, possibly our first recipe with black-eyed beans. I liked the delicate flavour of the beans.
Silverbeet and Black-eyed Bean Soup
Serves 4-6
190g (1 metric cup 250ml size) or 1 1/4 US cups black eyed beans, soaked overnight in cold water or substitute a 400g tin of borlotti beans or lentils
40ml (2 metric tablespoons) olive oil
1 red onion, finely chopped
2 garlic cloves, thinly sliced
1/2 teaspoon ground cumin
1/2 teaspoon fennel seeds
1 dried bird's eye chilli, crumbled (optional)
1 litre (4 metric cups) chicken stock
400g tin diced Italian tomatoes (30g is 1oz) Roma
1 bunch silverbeet or chard, washed, trimmed, roughly chopped
Bring a large saucepan of water to the boil over high heat. Reduce the heat to medium and add the soaked black-eyed beans. Simmer for 30 minutes or until tender. Drain well.
In another large saucepan, heat the olive oil over medium heat. Add the onion, garlic, cumin, fennel seeds and chilli, and cook for 5 minutes, stirring continuously, until the onion is soft. Add the chicken stock and tomatoes, and simmer for 5 minutes.
Add the black-eyed beans and silverbeet. Simmer for about 10 minutes and serve immediately.
Adapted from recipe in Family Circle (Australian) October 2006.
Here is another recipe we use, we are eating it tonight with wombuk instead of spinach.
Greek Lentil, Spinach & Dill Soup
Serves 6.
2 tabs olive oil
3 medium brown onions, chopped finely
1 stick celery, chopped finely
1 medium carrot, chopped finely
2 cloves garlic, crushed
1/2 fresh long red chilli, seeded, sliced thinly or green chilli
2 bay leaves
6 stalks fresh parsley, or 1/3 cup chopped
1 1/2 cups (300g or 10oz) brown lentils
3 litres (12-15 cups) water
2 teaspoons salt
freshly ground black pepper
5oz/150g baby spinach leaves or Chinese cabbage
1 tab red wine vinegar, approx.
1/2 cup lightly packed fresh dill sprigs or 1/3 cup chopped
3 chicken stock cubes
3/4 teaspoon sugar
Heat the oil in a large saucepan, cook onion, celery and carrot, stirring, for about 5 mins or until softened. Add the garlic, chilli, bay leaves and parsley stalks, cook, stirring until fragrant. Add the lentils, stir to coat, add the water, bring to the boil. Reduce heat, simmer, uncovered, for about 20 mins or until lentils are tender. (Our own recipe says 1 1/2 hours, and usually 45 minutes is the minimum from memory.) Remove the bay leaves and parsley stalks. Season soup to taste with salt and pepper. Add the spinach, stir until wilted. Stir in vinegar to taste and sprinkle with dill. Suitable to freeze.
Adapted from: The Australian Women's Weekly June 2004